Spicy Curries, Seafood, Exotic Tropical Fruits, Vegetables and Tea, visitors could experience in abundance at very reasonable prices. There are many Chinese restaurants around the country for those who do not have the gastronomycal preference for curries. All major hotels offer a mixed menu.
Tea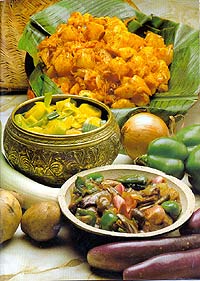 Sri Lanka produce the world's best teas. Tea therefore is very cheap and comes in good presentable packages and great many flavours now. Should you be going to the hill country towards Nuwara Eliya there are many tea estates and their affiliated sales outlets where you could also taste fresh tea of the estates.
Curry
Sri Lankan curry is slightly different from Thai and Indian Curries. Usually they are hot and spicier. Coconut milk in the curry is common but some may not be using it to allow different palates. Rise is eaten with different curries mixed together. Old colonial Rest Houses serve curries of good standard and quality.
Cakes and Patties
Prepare yourself for great tasting cakes and various other baked foods. They are excellent and have many varieties to choose from. Patties and pastries are certainly spicier but less hot at upmarket outlets. While there are many chain shops selling cakes around Colombo individual shops are located throughout the island.
Seafood Being an island there are many varieties of fish and other sea food. South Indian vegetarian food is widely available through out Sri Lanka. Bottled water and carbonated drinks are available all over the country.
Some Local Specialities
| | |
| --- | --- |
| | Toddy – A cider like drink from palm and coconut trees is a popular alcoholic drink. Toddy cocktail is served at many hotels. |
| | Arrack – A more aged and refined version of Toddy. |
| | Kewum – Oil fried rice floor and palm honey cakes. |
| | Hoppers- A thin and crispy (buy not sweet) pancake done in round pan usually eaten with a onion and chilly paste. But also great with a sweet or a curry. |
| | Curd – Yoghurts from buffalo milk eaten with palm honey. |